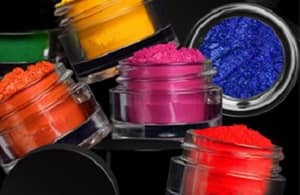 D&C Lakes
Kolortek offer various cosmetic grade DC Lakes & Oxides. Product range includes: Iron Oxides (Yellow/Red/Black/Brown), Titanium Dioxide, Ultramarines, Chromium Green Oxide, Carbon Black.
They can be used by itself or to deepen the tone of other colors. All natural colors have been filtered of harmful impurities. Used for tinting foundations, blushes, eyeshadows, eye liners, lip colors, pretty much anything you can dream up. These pigments are essential to makeup formulators.
Any Questions About D&C Lakes ?
MSDS, TDS, COA, Request Quote, Formulations, Private labels, Custom packaging, Sample evaluations, etc.
Please complete the contact form and a Customer Service representative will be in touch with you shortly.